Sickness comes on horseback but departs on foot. ~Dutch Proverb, sometimes attributed to William C. Hazlitt
I was fine a few days ago. Then the sore throat started, and yesterday it settled into my chest. Yep, a cold. It's already the end of April, and I thought we had squeaked through the season without suffering much in the way of illness. I guess I thought that too soon.
I took a really long nap after I got home from work last night. 5pm-10pm, I woke up just in time to catch the news and then get ready for bed. I feel much better today. That time sleeping did cut into my reading time. (Along with blogging time, cleaning time, watching TV time, messing around online time, and play time.)
I had two book clubs this week and didn't finish either book in time to lend much to either discussion. I suppose I should have started the books before I left for a short vacation in San Diego. Somehow the month got away from me, and I didn't realize that the few days after I got back were book club days.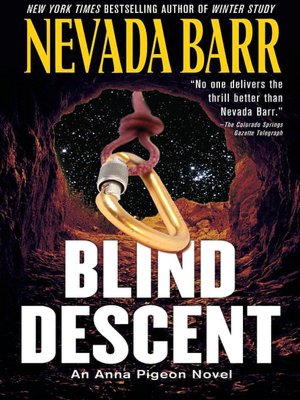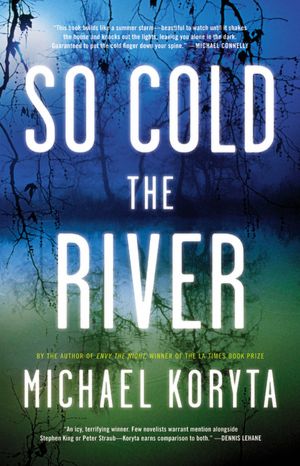 I listened to half of Blind Descent by Nevada Barr for book club on Tuesday night, and managed to read 95 of the 506 pages in Michael Koryta's So Cold The River for Wednesday night's book club. My cold has since cut into my finishing of those books. Specifically, that nap yesterday. You can't really hurry along an audio book, but you can speed through a regular one. I'm really enjoying So Cold The River
and I'm sure I'll have it finished by the end of the weekend. But first, I need to play a bit of catch-up around the house. As long as I'm doing something I find tedious, I'm going to make the most of it and finish listening to Blind Descent. It's amazing how much easier it is to clean up my house when I'm listening to a good book.
If you aren't familiar with Nevada Barr, she writes a series of mysteries involving Anna Pigeon who works for the National Park Service. They all pretty much take place in different National Parks, and entail varying sorts of mysteries. Her descriptions of places are very readable, and the characters have personality. Reading a Nevada Barr book can make you long to visit some of these National Parks and Blind Descent does exactly that. It takes place in New Mexico's Carlsbad Caverns, and it travels below ground through the much less explored area of Lechuguilla Cavern. If you don't like tight spaces, you will feel the pain of Anna Pigeon as she descends underground. It's a fun listen, if you haven't been able to get your hands on the book.
So Cold The River is a fun book. A man who makes memorial videos is asked to create a movie based on one woman's father-in-law who is not long for this earth. He goes back to the man's hometown, and finds that things may not be as they were presented to him. A little mystery ala Stephen King. Not scary, just creepily mysterious. It's a book that if I could, I would just lay down with it and read the day away. You want to know what's going to happen next, and that makes it hard to put down. Even when your eyes are struggling to stay awake as mine were yesterday.
That book is giving me motivation to get my house cleaned up and thus finish listening to the other. I want to know what happens next. Besides the dishes.