You can teach a student a lesson for a day; but if you can teach him to learn by creating curiosity, he will continue the learning process as long as he lives. ~Clay P. Bedford
I am so very happy to say that 2/3 of my children started school yesterday. I'm even happier to say that the third child starts a four-day-a-week preschool next week. I'm almost giddy with the thought of having a whole day to myself without anyone telling me they're bored, hungry, or don't want to do what I've asked them to do.
I love school. I didn't love it when I went, but I love it when my children go. They enjoy school as well. At least so far they do. I'm excited for them to begin a new year of learning new things with teachers that my kids are excited to have. We've been very fortunate to have gotten great teachers over the years, and I certainly hope our good fortune continues.
There is a new reading program at the school this year. As the libraries were all downsized, there are less books in the school library. Many of the books are now in the classrooms. Will my child break the school record for AR points again this year? Somehow, I doubt it. I found that many of the books in her room are books she's either read or are books that will only take her a couple hours to finish. Granted, she's got a mother who works at a library and knows how to order books from other libraries, so she's got a chance.

Sorry, not trying to start another fuss. My kids are readers. They read well above their grade levels. They read fast. I worry that they won't be challenged with the reading program. But, it's only the beginning of the year and I'm sure they've got a plan for kids like mine. If not, I work at a library and the girls can just let me know what they'd like to read and I can order it. If you're in the same boat, you can order books for your child via the Arrowhead Library System site. (Kids are so smart nowadays, it probably wouldn't take them long to figure out how to do it themselves!)
You just need to know your library card bar code number. If that's more work than you want, come into the library and talk to someone who works behind the desk. Most of us have a pretty good idea about what kind of books your child might find enjoyable.
Right now, it's the first week of school. It's still nice enough outside to just send them out once they get off the bus. Once the cold air starts really blowing in, I'll get to work on searching out new books and authors for my kids to try. Until then, they can re-read NERDS by Michael Buckley for the umpteenth time.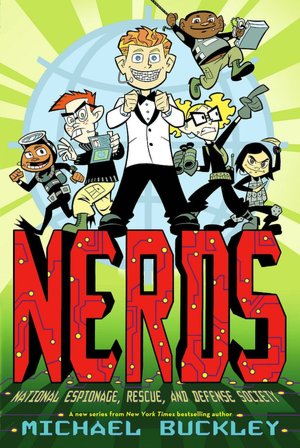 You learn something every day if you pay attention. ~Ray LeBlond
Nerds are far more interesting humans in later life. ~Alyson Hannigan